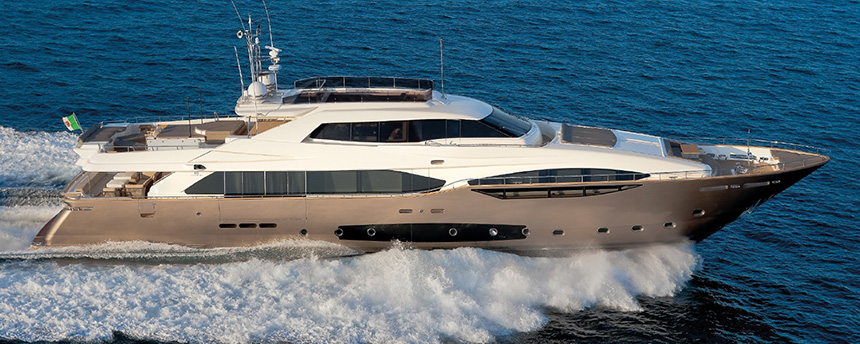 The Ferretti Open days will be celebrated in Hong Kong from 4th to 6th of March 2016 where FY960THB, FY550 and FY650 will be available for visit along with the N28#3 and the Cl124. Ap Lei Chau is the venue for this much awaited private boat show. Save the date and get in touch with us to visit the event exclusively with Marine Solutions. Email us at info@marinesolutions.in
CUSTOM LINE 124
The beautiful Custom Line 124′ is characterized by streamlined and lightweight features, enhanced by a large glazed surface. At the level of the salon a system of windows which can be turned into sliding doors creates exclusive private terraces on the sea. The Ferretti 500 features an unprecedented hull design, equipment and engine room arrangement and interior layout, is once again the brilliant outcome of the long-standing cooperation between the Group, its Engineering Department in particular, and Studio Zuccon International Project. This yacht combines elegance and a very sporty character, with clear-cut and yet very seducing lines. The Ferretti Yacht 650 immediately strikes the eye for its extensively renovated profile. Its outer silhouette is characterized by an aerodynamic fly bridge and new fiberglass decorative elements that "cut" through the profile of the glazing in the superstructure Gautama Dutta, Director Marine Solutions " The Ferretti 550 and Ferretti 650 spacious interiors and grand flybridge are perfect for cruising in Indian waters. We expect to see few of these boats in Bombay"
Ferretti 960 Ferretti 960 is the ultimate embodiment of a recreational craft, slender and sporty the 96-footer ensures top performances in its category and is characterized by an optimized outdoor and interior layout The Navetta 28 is special! She is recognizable from the unmistakable exterior profile and the panoramic dining area with round glass sliding doors. The Navetta yachts are slower, more comfortable yachts with beamy, semi-displacement hull forms, upright profiles, and an emphasis on luxury, which offered a more relaxed approach to cruising. "Once you are onboard this yacht you don't want to leave. She has certain style and presence that grows on you. She is a little super yacht ! With fin stabilisers and sea keeper gyros this is one yacht where all passengers in the five cabins can have a good night sleep. "says Gautama Dutta, Director Marine Solutions.