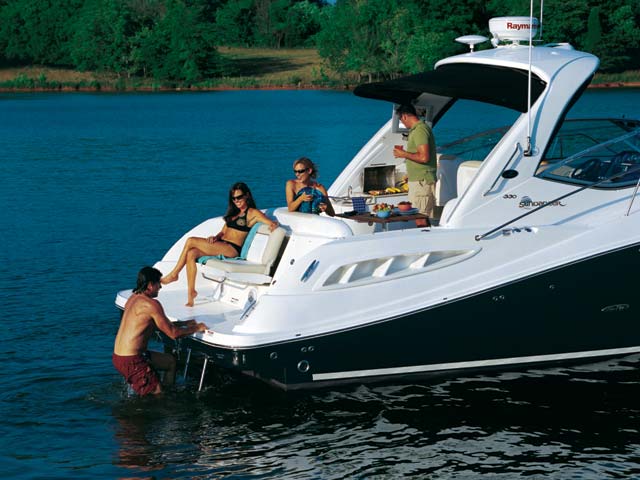 Sea Ray 300: The new flagship of the Select EX series is a progressive runabout with the muscle and sophistication of a luxury sports car. You get impeccable craftsmanship, advanced technology and executive-class comfort. Plus you get to see the jealous looks on every other boater's face. The 300 Select EX elevates state-of-the-art to work-of-art levels.
Sea Ray 330: The 330 Sundancer proves that Sea Ray is always pushing into new and rewarding territory. Four over sized hull windows contribute to enhanced interior visibility and ambient light. There is a clever aft-facing transom seat, optional cockpit barbecue and flat screen TV, and an electrically adjustable forward berth. A plunging sheer line and contoured fiberglass sport spoiler are sure to grab attention wherever you go. Choose your preferred power from gas or diesel stern drives, or gas inboards.
Both, Sea Ray 300 & 330 come with Axius Drives making it astonishingly easy for anyone to control & navigate the boats in the toughest of spaces!
What is so special about the AXIUS DRIVE
Axius Drives uses a combination of digital technology that brings together inputs from the Digital Throttle and Shift, Axius Joystick Command System and independently controls the drives. The system gives you incredibly easy control over some of the most frustrating situations like docking in a busy marina or manoeuvring through a tight area in a cross current. It is a complex combination of electrical and mechanical inputs that come together in a simple joystick at the helm making it easy for practically anyone to take control like a pro.
So if you're looking for a day trip with the kids and the husbands seem to be caught up with work, The Axius Drive helps you step into your boat confidently & take the kids for a fun-filled & safe spin!