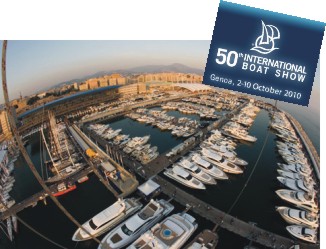 With 1,400 exhibitors, 2,300 boats, 500 new products on display, Genoa International Boat Show has reached its fiftieth edition. Innovation, a complete product range, and quality are the key-words of the 2010 Genoa Boat Show. The yachts to look out for are the Ferretti 800 and the Pershing 92!
To its more-than-aware public and to professional operators, Genoa International Boat Show will offer TechTrade, the section devoted to components and accessories for pleasure boating. Monday, 5 and Tuesday, 6 will be the b2b preferential days.
Moreover, in order to further enhance b2b transactions with foreign operators during the Show, this year UCINA intends to promote several initiatives, in accordance with the principles expressed in the sector agreement reached with MISE (the Italian Ministry for Economic Development) and ICE (the Italian Institute for Foreign Trade) for the promotion and support of exports. The traditional mission of foreign operators will consequently be longer, this year, and involve more participants, the final objective being doubling the presence of foreign professional operators at the Show against last year and favouring in particular the participation of representatives from strategic markets like China, India, North Africa and South America.