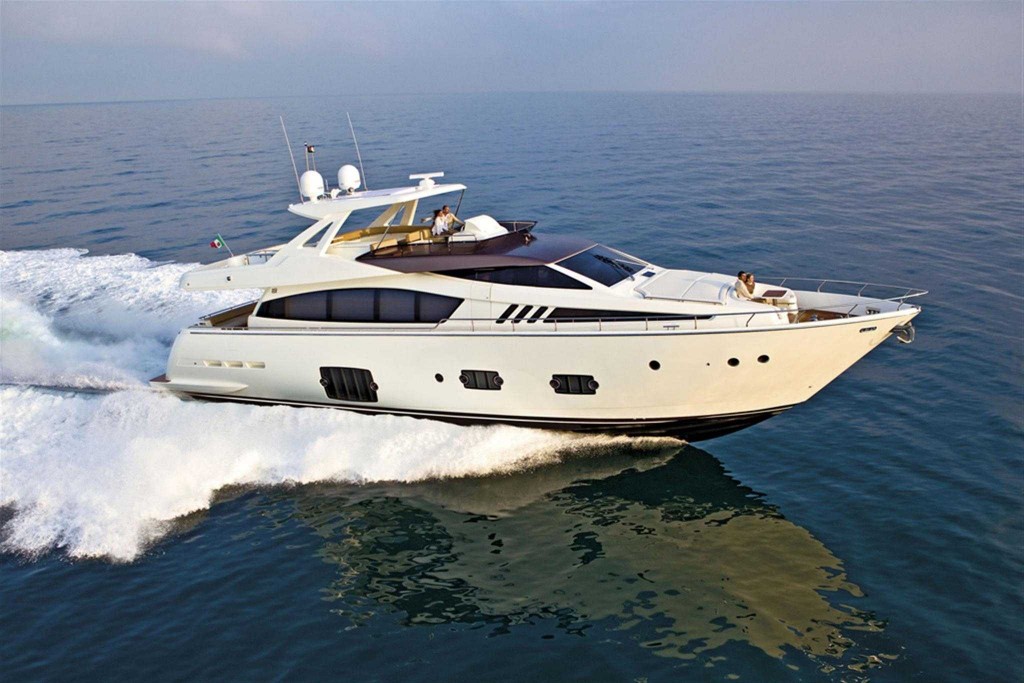 Ferretti Yachts, one of the world leaders in the design, construction and sale of motoryachts, unveiled Ferretti 800, the yacht, which combines the original Ferretti Yachts style with both exploration and re-examination in the spheres of planning and design.
The new yacht was designed by architect Gianni Zuccon from Studio Zuccon International Project and Ferretti Group's AYT – Advanced Yacht Technology. The joint project features unusual external lines and generous interior spaces.
There are two basic novelties of the external profile of Ferretti 800: coloured dome and the graphic lines of the glazing. The main deck is very spacious and light thanks to three "shark branchiae" windows – the distinctive feature of Ferretti Yachts. AYT developed several new concepts to provide as much light as possible to the lower deck.
The overall view of this yacht gives the idea of a lightweight, highly elegant model, with a sporty touch: the bronze dome makes the profile more aggressive, and can be completed – upon the owner's request – with a hard top which can be opened.
Ferretti 800 is powered by twin MAN 1800 engines which drive the yacht to a top speed of 31 knots.
The night area is set out on a single level and features the master cabin, two double bedded VIP cabins, and a guest cabin with overlapping beds. The main deck is separated in two distinct areas – living and dining. The living area features a newly designed set out, with two sofas which can be positioned freely along the line of the walls.
The dining area is located on the same level, with a crystal table and seats for eight guests. There is a sliding door providing access to the bridge, the galley and the crew area, which has been moved to the extreme bow. The galley was designed by well-known Ernestomeda.
The layout of Ferretti 800 is thus inspired by larger yachts, and is highly innovative for an 80 footer, making the various different areas even more useful, and defining new on-board routes.
Specification of the Ferretti 800:
LOA:24.73m
Hull length: 23.98
Maximum beam: 6.28m
Displacement unladen: 64.55 t
Displacement laden: 74.83 t
Marine Solutions is the first professionally managed company dedicated to the leisure boating industry in India. The company exclusively represents premier international brands in every category of the boating business in India. Concerns include the elegant Italian models from Ferretti Yachts, Custom Line, Mochi Craft, Bertram and Pershing of the Ferretti Group, Jeanneau sail and motor yachts from France, the iconic American Sea Ray™ sports boats and sports cruisers, Kawasaki's Jetski™ personal water crafts, the complete range of leisure and Milpro inflatable boats of the world famous Zodiac name, Sunstream boatlifts and marine propulsion options and commercial boats from Mercury Marine.