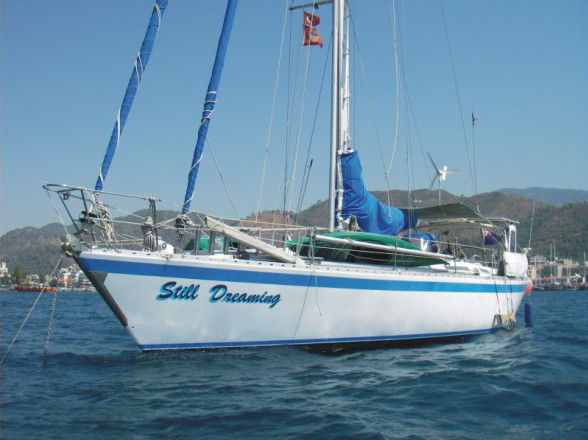 Available with Marine Solutions for Exclusive Brokerage is S/ Y Still Dreaming length 14.42m, beam 4.47, draft, 2.05 m and displacement 17 tons . Still Dreaming, the Wauquiez Centurion yacht built year 87 is in fantastic sailing boat. The last owners have owned it since Oct 2000. They sailed across the Atlantic Ocean summer 2001 and further 3200 miles of extensive sail handling sailing from Norfolk Virginia, USA to Portugal. In the last 7 months they have been part of the Vasco Da Gama rally from Turkey to Mumbai India 5000 miles.
The boat is now in India and available for sale with Marine Solutions.
The boat is well set up for long distance voyaging with the focus on sailing. Still Dreaming has all the necessary sails, poles, blocks etc to handle all wind conditions. SSB / Ham radio gear for long range contact as well as normal VHF communications are on the boat. Living at anchor is very comfortable with oversize ground tackle and solar panels to keep the batteries fully charged. the boat is set up well for being handled by two people, large winches, boom brake, etc. The owners have been cruising for over 25 years and have lived aboard a sailboat as their only home since 1991. At this point in our lives they have decided to enter into a new passage in life and have bought property and a home in New Zealand.
Still Dreaming which has taken its previous owners through the Chesapeake Bay in the United States, across the Atlantic Ocean, through the Mediterranean Sea, down Red Sea, across the Arabian Sea to India. Still Dreaming is a beautiful home and cruising sailboat.