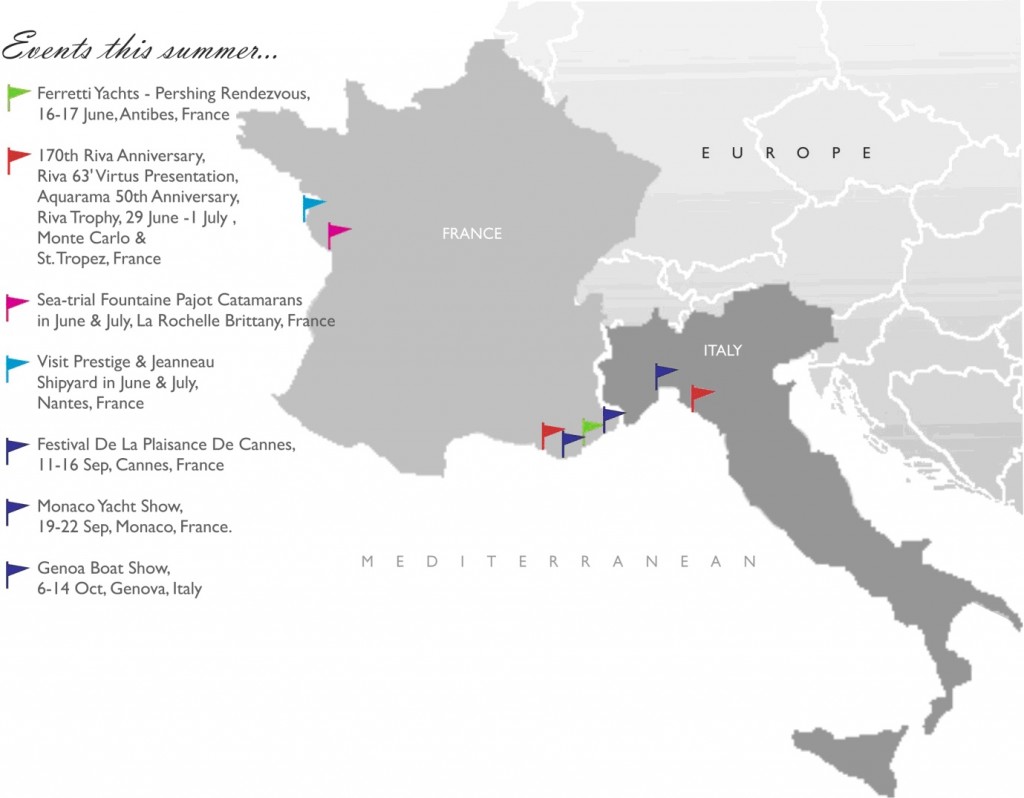 Ferretti Yachts – Pershing Rendezvous,
16-17 June, Antibes, France
170th Riva Anniversary,
Riva 63′ Virtus Presentation,
Aquarama 50th Anniversary,
Riva Trophy, 29 June -1 July,
Monte Carlo & St. Tropez, France
Sea-trial Fountaine Pajot Catamarans
In June & July, La Rochelle Brittany, France
Visit Prestige & Jeanneau
Shipyard in June & July,
Nantes, France
Festival De La Plaisance De Cannes,
11-16 Sep, Cannes, France
Monaco Yacht Show,
19-22 Sep, Monaco, France
Genoa Boat Show,
6-14 Oct, Genova, Italy
FERRETTI YACHTS – PERSHING RENDEZVOUS 16-17 JUNE 2012 (ANTIBES, FRANCE)
The event will take place at Port Vauban, Antibes on the weekend of 16-17th of June. Ferretti Yachts will have a wonderful line up of vessels in the 50-70′ range:
F500/17
F530/49
F570/17
F620/03
The Pershing performance yachts available for viewing and  sea trial are the:
P50.1/4 Shaft Drive
P64/10
P74/01
P50.1/4 and P64/10 will also  be available in Cannes for sea trials on occasion of the Lions Cannes Festival (festival of creativity – worlds most important event for creative professionals) on the following weekend.
RIVA 170TH ANNIVERSARY, 29th JUNE – 1st JULY (MONTE CARLO & ST. TROPEZ, FRANCE)
With the celebration of the 90th birthday of Mr. Carlo Riva this year, starts a long period of important events for Riva, a brand of the Ferretti Group. The celebrations begin with the 50th anniversary of the Aquarama and the 170th anniversary of the brand. Monaco Boat Service is hosting this year the exclusive Riva Trophy in which Riva owners will participate in a race from Monte Carlo to St Tropez for the Riva's 170th Anniversary celebrations. In this highly anticipated event there will be a breathtaking range of vintage and new Riva's boats. It also includes the parade of the Aquarama 50th anniversary. Riva, iconic Ferretti Group brand, also announces the birth of the new flagship of their open line, featuring racy exteriors with a strong personality: Riva 63′ Virtus, is the largest open yacht produced by the shipyard, characterised by an unmistakable style and a distinctly Mediterranean character.
170th Anniversary Event & 63′ Virtus Presentation Launch – 29-30 June, St Tropez
Sea trials on Virtus on the morning of the 30th
Fountaine Pajot:
Visit the Fountaine Pajot shipyard in Brittany. If you have been  searching long and hard for the perfect yacht, Fountaine Pajot offers a range of sailing catamarans, and, not so many will know that the French manufacturer also produces a range of equally serious ocean-going power catamarans. Sea trial them this summer in Brittany!
Visit Prestige:
Visit the Prestige shipyard and view the stunning new range of Prestige Yachts including the award winning Prestige 500. This new model, first launched in Düsseldorf, Germany, won many trophies as:- "Best Interior Design" in September at the World Yachts Trophies Awards in Cannes.- "Best Motor Yacht" in October, at the Nautical Design Awards in Milan.- "Best of the Best" 2011 in Hainan by the magazine Robb Report. – "Motor Yacht of the Year" in January 2012, at the official ceremony of the Motor boat of the year award, in the category of yachts up to 55 feet in length.
Test sail a Cap Camarat! Participate in the Cap Camarat Days!