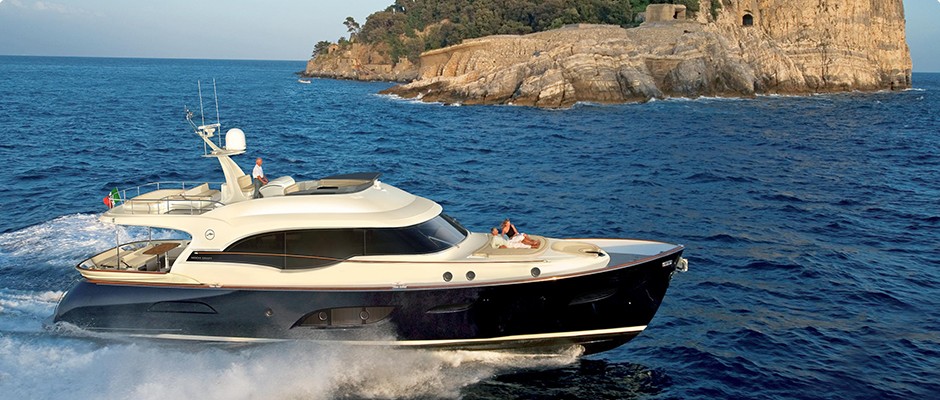 Spacious areas, an innovative layout and total privacy for the owner make the new Mochi Craft flagship an example of unparalleled formal and functional excellence. The new Dolphin 74′ Cruiser, ideal for lengthy, open sea cruises, stands out for unique, innovative features unknown to the Lobster segment until now: new, functional solutions and a cutting-edge concept enhance the idea of on-board liveability, fully-expressing the heritage of the shipyard's experience and the Ferretti Group's leadership.
Four distinctive features make this yacht unique:
– the new concept for the flybridge, which extends to cover the entire cockpit and features new, open-air spaces, in perfect harmony with the elegant lines of the Mochi Craft Dolphin fleet;
– the main bridge, split into two comfortable, separate areas – lounge and dining;
– a spacious, isolated galley providing access to the crew area, enabling the crew to move freely from the service areas to the garage, through the engine room, thus protecting the owner's privacy;
– a renewed, extended crew area complete with utility room.
Designed by architect Brunello Acampora from Studio Victory Design, in close collaboration with Norberto Ferretti, the AYT (Advanced Yacht Technology) and the Ferretti Group's Centro Stile, Dolphin 74' Cruiser compounds the experience Mochi Craft built up while inventing the Italian-style Lobster Boat. The result is a new generation Lobster Boat which maintains and celebrates Mochi Craft elegance and style, introducing innovative functional solutions.