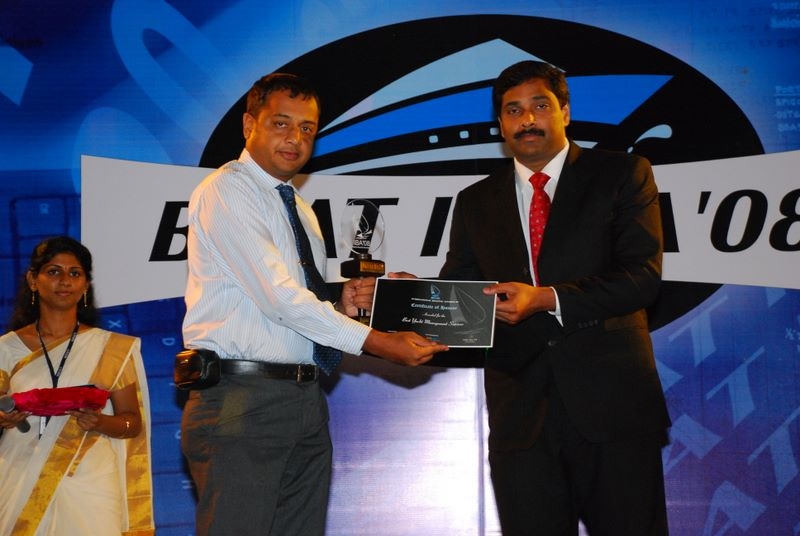 Inaugural Indian Boating Awards ceremony recognized Marine Solutions, India's Premier Leisure Boating Company for excellence in Yacht Management at the first-ever Indian Boating Awards, which were held on December 14, 2008, in conjunction with the Boat India show in Cochin, India.
Established in 2001, MARINE SOLUTIONS grew out of a passion for the seas shared by its directors and has grown over the years to be India's leading concern for retail, management and maintenance of yachts and leisure crafts of all types.
The company exclusively represents premier international brands in every category of the boating business. Concerns include Ferretti Yachts and Mochi Craft from Ferretti SpA in the luxury fly-bridge motor yacht category, luxury performance yachts from Pershing of Ferretti SpA, Bertram Yachts from Ferretti SpA in the off-shore sport fishing category, Chantiers Jeanneau in the quality sail and motor yacht section, Sea Ray™ in the sports boats and sports cruisers category, inflatable boats of military, professional and leisure use from Zodiac International, Jetski™ personal water crafts from Kawasaki, and Mercury Marine in the marine propulsion department.
Marine Solutions is committed towards winning people's hearts and minds to the yachting lifestyle by providing complete boating solutions. Services provided include help in choosing the right product, handling the import, commissioning the boat, warranty service and various options in maintenance backup and boat management. Marine Solutions has a boat yard and workshop in Bombay and offices in Bombay, Goa and Calcutta and exclusive services for their clients at their facilities at the Gateway of India in Bombay and off Captain of Ports jetty in Panjim Goa.
As a matter of pride for MARINE SOLUTIONS, Ferretti Yachts received nominations in five categories, Pershing in two and Sea Ray in one, at the awards night while the Ferretti Custom Line 112 was awarded The Best Mega Yacht (Over 100ft). Renowned yachtsman and Executive Director MARINE SOLUTIONS, Gautama Dutta, accepted the award on behalf of Ferretti Custom Line and according to him, "The award makes us proud that the industry recognises the pioneering work done by MARINE SOLUTIONS towards establishing the highest standards in critical field of yacht management in India. This has been a very challenging task given the lack of boating infrastructure in the country and the difficulties faced in training people in this new industry."
Anju Dutta, Managing Director MARINE SOLUTIONS, lets her solid experience in sales and marketing in the boating industry talk. According to her "The India Boating Awards is one of the early steps taken in the right direction by the boating industry in India. We absolutely have to set the standards to quality in this niche luxury market and it is this thinking that will help us grow as an industry."