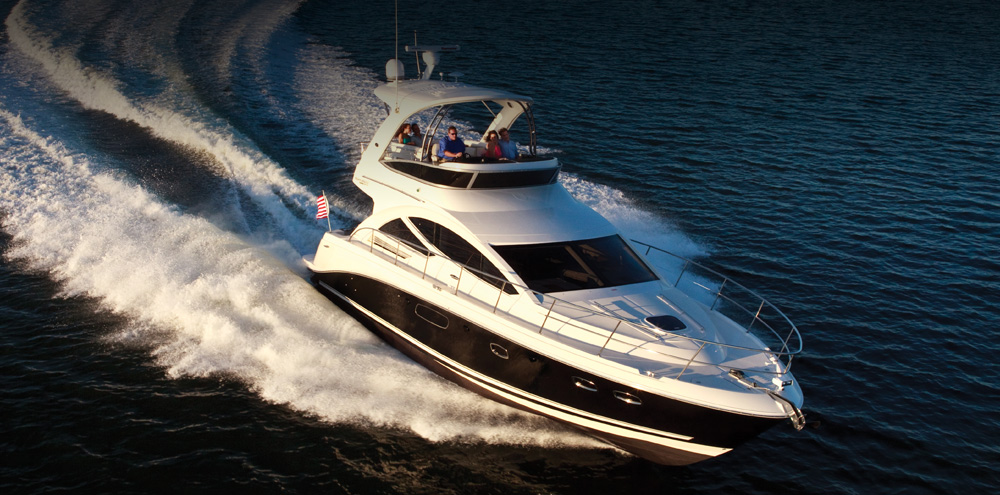 The ALL-NEW 450 Sedan Bridge is the latest addition to Sea Ray's best-selling lineup of sport yachts. Engineered with the most advanced robotics and computer-integrated manufacturing in the business, quality radiates from this boat's ultramodern bridge to its sea-tested hull. Exceptional standard features, stylish lines, and yacht-quality fit and finish results in a vessel that will propel your dreams. 450 Sedan Bridge is in production now for a summer 2011 delivery. Stepping aboard, it was evident the redesign wasn't done purely for dock appeal. The enlarged salon windows and additional hull ports bring in significantly more natural light, providing a more open feel to the interior.
Tweaks to the living spaces are subtle and result both in an enhanced visual sense of spaciousness and some actual increases in elbowroom in areas such as the galley, salon and raised dinette. The two-stateroom, two-head configuration provides privacy and ample comforts for two couples or a family of four, with additional sleeping capacity in the salon. Master and guest heads are of equal proportion, and both are realistically sized for adults. The raised dinette to port can be deleted in favor of a lower station. Even with this change, there is still seating for six in the salon, plus room for a high/low table.
Sea Ray has long since perfected the use of V-drive transmissions, which allow for aft placement of the engines and larger interior spaces. Switching between V-drives and Zeus pod drives is a much simpler change than would be the case with straight shafts, but rather than simply drop the new drives into an existing hull, Sea Ray invested in a new hull with running surfaces optimized for pods. Instead of the 492 hp, 8.3-liter CMD QSC power plants standard on the earlier 450, the new boat is fitted with the smaller CMD QSB5.9-480 HOs, which are rated at 473 hp. A 600 hp version of the QSC block will be offered as an optional upgrade.
Up top, the flying bridge sports a two-passenger bench seat to port, which swivels to face the U-shape dinette and lounge situated aft. The helm sits a bit farther to starboard than on the earlier 450. This move freed up some additional dashboard space to allow for dual 15-inch displays. It's design, started with a blank sheet of paper and no preconceived notions when it came to the interior layout, is proof enough to say that Sea Ray really listens to its owners and dealers. A new Sea Ray model is a refresher course on how this builder's customers actually use their yachts. Given the choice, would you rather enhance your appearance or your physical performance? If you answered "both," you're on the same page as the Sea Ray engineering team. All in all, Sea Ray (once again) has produced a yacht that is thoughtfully designed, well-built, and, well, just plain fun.