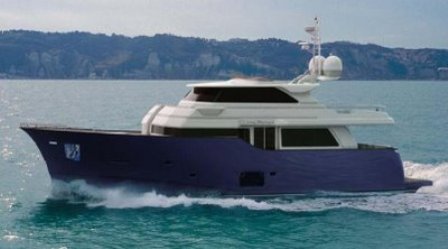 The Long Range 23 is a revolutionary three deck motor yacht and with it Mochi Craft rewrites the history of the international nautical sector.
Taking its luxury boats to the next level – this is an Expedition Boat…Mochi Craft Style. So next time you see a dashing yacht in the middle of the ocean with exciting colors and flair…expect it to be a Mochi. Taking a traditional lobster-boat the luxury way would definitely mean that you need to have finesse and passion fueling the 'luxury-cylinders' of your mind…
Ferretti Yachts says it offers a significant reduction in rolling over traditional displacement hulls. The motors are powered by a pack of Lithium ion batteries, the most advanced technology in this field. While operating in 'energy storing' mode, the batteries rapidly store the energy produced by the diesel while under way. The batteries can also be recharged simply by plugging them to the shore power connection. For short range coastal cruises, the yacht can, for example, leave port, cruise around and return using only the electricity drawn and stored from the terrestrial network, providing significant energy savings and much less pollution.
The 'zero emission mode' hybrid propulsion system allows the craft to be managed in five different ways, ranging from traditional diesel function to the zero emission mode. Users have the option of lying at mooring with zero emissions while accessing the boat's electrical facilities, for example, or leaving port in silence and creating no smoky exhaust emissions. The Long Range 23 also uses Ferretti's new Fer.WEY (Ferretti Wave Efficient Yacht) 'trans-planing' hull, which the firm says ensures higher hydrodynamic efficiency than other planing or displacement hulls.
The Advanced Yacht Technology division at Ferretti embodies all their products with an unprecedented distillation of innovation and technology…
The Mochi Craft Long Range 23 will be launched at the Genoa Boat Show in October…