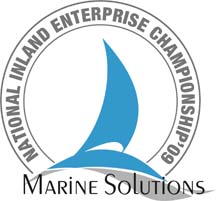 Sponsors
Marine Solutions, a Bombay based yachting lifestyle company will be sponsoring the event. The company is well known as the dealers of the ultra-luxury brand of Ferretti yachts, which are now a rage with who's who of India. The sponsors will be displaying a Sea Ray 175 Sports Boat as well as the world's most powerful Jetski, the Kawasaki Ultra 260 X, at the sailing venue during the event.
The National Inland Enterprise Championship (NIEC) is the most popular yachting event in India, held on the pristine waters of the Khadakwasla Reservoir at Poona with more than 150 competitors coming to race in exciting early monsoon conditions from all over India. The event is hosted by the National Defence Academy Sailing Club each year in the first week of June. The National Defence Academy (NDA) plays a stellar role in promoting sailing by making available the boats for India's top sailors to race against each other. The Khadakwasla Reservoir has been a popular sailing venue since at least 50 years. Many a veteran sailor in India has fond memories of racing in the shifting breeze of the reservoir while their families watched the racing from the view-point up on the hill. The annual event as per the present format was initiated in the time of R Adm RP Sawhney, former Commandant of NDA and a keen sailor, as the Inland Waters Championship in 1982. Since then it has been re-christened as the NIEC.
Boats being raced
The event is sailed in a class of racing boats called the Enterprise Class. The Enterprise is a two-man boat designed in the sixties by Jack Holt and is immensely popular in the Commonwealth countries. The boat is constructed of fibre glass and the Indian boats are built in Coimbatore a veteran sailor, Joe Nejedly of Praga Industries. The Enterprise is distinctive the world over as it has blue sails and so we can expect to see a hundreds to blue sails flitting around the Khadakwasla Reservoir next week. The organizers have arranged special viewing for spectators and they hope to see a lot of the residents of Poona drive up to Khadakwasla.
The competitors
The NIEC has seen the best known names of Indian yachting compete in the waters of the Khadakwasla Reservoir – the Mongia brothers, Brig S Pillai, Capt Homi Motivala, Farokh Tarapore, Gautam Dutta, Naresh Yadav. This year too all the top guns have confirmed their participation.
Clubs who will sending their sailors are the Royal Bombay Yacht Club (RBYC), Colaba Sailing Club (CSC), Army Yachting Node (AYN) Bombay, Naval Sailing Club (NSC) Bombay, Tamil Nadu Sailing Association (TNSA), Royal Madras Yacht Club (RMYC), Corps of Engineers Sailing Club (CESC), Bombay Sailing Association, Goa Yachting Association (GYA), Secunderabad Sailing Club (SSC) and several others.