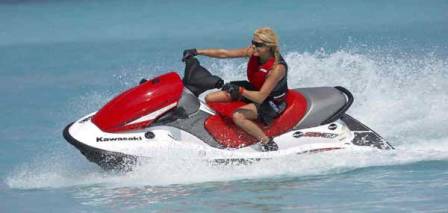 Kawasaki stunned the motorcycling world with the launch of its Ninja® ZX-14 flagship. It didn't take long for the mighty ZX-14 to assume its rightful place as the quickest and fastest stock production motorcycle. Now, Kawasaki extends its high-performance domination into the realm of personal watercraft. As the quickest and most powerful production PWC in history, Kawasaki's new JET SKI® Ultra® 250X serves notice that "ULTRA" defines the pinnacle of PWC performance.
The supercharged Ultra 250X delivers 250 horsepower for astonishing acceleration that can be felt in the rider's soul. Once up to speed, its precise handling and superb stability are equally impressive, thanks to a brand-new hull specifically designed to capitalize on the engine's awesome performance.
The JET SKI Ultra 250X's new engine, jet drive and hull incorporate racing technology refined through Kawasaki's multiple IJSBA championships. This same technology allows it to deliver the awesome acceleration of a drag racer, and help ensure excellent hook-up – even in rough water.