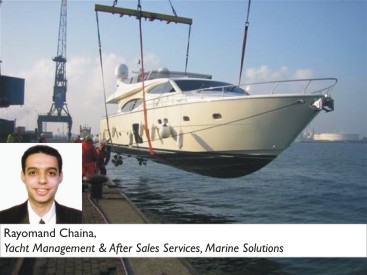 Your boat is priceless to you and you need to take all measures to safeguard it during all seasons. Taking care of your boat during monsoons is not a tough task as one would assume. Docking during monsoons is a very important aspect of owning and managing boats. In India the monsoons arrive during the first week of June. The boat owners start listing their boats from the second week of May. Once the boats are listed they are lifted and are taken to the yards for dry berthing. The process of lifting involves the usage of cranes, lifting gear, experienced supervision, manpower and planning.
Once the boat is on dry storage the hull is cleaned to remove barnacles and oil. Further to the cleaning the engine of the boat is flushed with fresh water to remove salt residue. This is an important step as the residue can corrode the entire engine. After this the technical team comes in to carry out the engine routine to store it during the monsoons. The boat is thoroughly cleaned and dried inside out before it is packed with tarpaulin covers. Silica gel is used to protect the various electronic items inside the yacht. The gel is placed in small glasses/containers and the crystalline form of the gel absorbs any excess moisture. Specific chemicals may be applied to clean Rexene / leather seats to avoid formation of mildew.
Following are some of the precautions that need to be taken while docking.
1. While lifting the boat the tonnage of the boat should be noted as the right crane(tonnage) should be deployed for the lift.
2. The validity of the insurance of the boat should be checked. Also the various things that the insurance covers should be taken note of.
3. Gear for lifting the boat should be surveyed properly to check its capacity.
4. The ground should be even and able to withstand the weight of the boat as well as the crane.
5. Padding should be kept between the boat and the belt to avoid scratches on the fiberglass body of the boat.
6. When the belt goes below the hull make sure it is placed in the right position and is not twisted.
7. The tarpaulin covers of the boat should be periodically removed to air the boat to avoid odor.
The cost involved in the process depends on the size of the boat, time period of berthing and place of storage. Other costs include break down maintenance, general repairs and polishing the fiberglass body of the boat before lowering it again into the waters. During the monsoon months the technical team makes routine check visits. The boats are back on the waters by the first week of October when the season is sunny again. If you own a boat, contact us for first rate docking services!