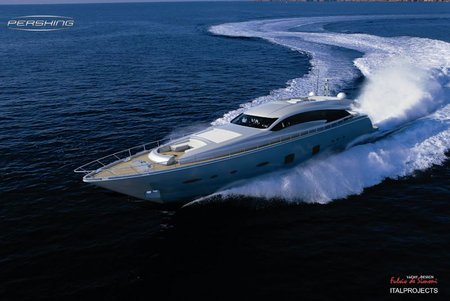 The latest model to join the Pershing range of high performance craft – coming soon is the fantastic new Pershing 108. The new Pershing 108 is an important new addition to the Pershing stable of thoroughbreds and tops the line of new models that include the Pershing 64, Pershing 72 and the new Pershing 80.
As is the case of the 80 and the 64, designer Fulvio De Simoni continues his follow up of the design introduced with the 72, especially for the upper coach roof lines, giving variation of the theme with unique characteristics for each model.
Specific information has yet to be released for the Pershing 108, but designs show the much requested feature of a sport flying bridge / upper deck for entertainment, of which a second helm area will be available as an option.
What will be for sure as standard from Pershing is the usual high performance but also the Moving Idea concept of transforming various environments on board the yacht as introduced with the 72 about a year ago.