Marine Solutions is the officially authorized Ferretti Navetta Yachts dealer in India. We have sales offices in Mumbai, Goa and Kolkata.
Ferretti Navetta represents a unique class of yachts with all the features typical of semi-displacement vessels offering innovative on-board solutions for a truly unforgettable cruising experience.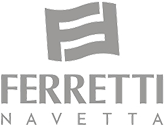 The Ferretti Navetta 26 Crescendo and Ferretti Navetta 33 Crescendo ensure excellent sea-keeping ability for long-range cruising.